I love the mountains
400 kimometres of perfectly marked hiking paths

The imposing massive of the Leogang rock mountains and the so-called "Steinerne Meer" as well as the soft, grass covered mountains are unique in the Salzburg region in Austria. With the neighboring PillerseeTal valley, our holiday region offers you a contrasty destination for your hiking vacation. No other leisure activity is as easy and diverse as hiking. A benefit for body, spirit and soul!
Be it an unhurried stroll along a cold mountain river or in the middle of a dark forrest on a hot summers day, active Power Walking or a demanding mountain adventure - there are unlimited possibilities to be active in our region. Over 400 kilometres of perfectly marked and well-groomed hiking paths are at your disposal. Numerous mountain huts and restaurants make our holiday region a unique destination where the beauty of nature and the calmness are in the spotlight - Leogang is one of the largest and most popular hiking areas in Austria.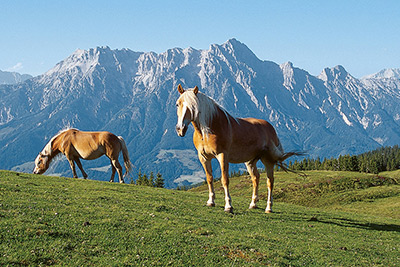 The senses adventure mountain is not only interesting for kids, but also adults can learn a lot about nature and themselves. Easily reachable by cable car, families explore a great attraction for everyone.
Numerous theme trails like the history adventure path, the theme trail Biberg nature & stone, the path of calmness towards the hermitage in Saalfelden an the "Steinalm, Leo's hiking path for the whole family and yet more to discover await you in and around Leogang.
Guided hiking- and mountain tours are being organised constantly by the local tourist office. If you are looking for a special tour, we love to organise a unique mountain experience with our perfectly skilled and trained mountain guide Ingolf, a friend of our family.
Experience a nice and adventurous BBQ evening at the BBQ place at Ullachtal, being situated wild and romantic in a brook bed, such an evening surely is an unforgettable experience for both, children and adults. Once you are there, a tour to the natural landmark "Birnbachloch", the lowest glacier in central Europe.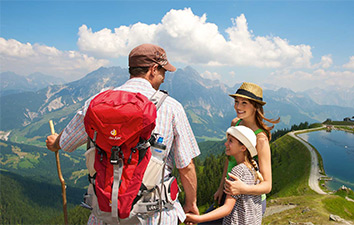 If you want to experience the magnificient panoramic views over the picturesque region from the mountain but hiking is way too exhausting for you, there still is the option of going up the mountain by "hikers' taxi". Enjoy the wonderful beauty and calmness of our nature and fill up your engines on the numerous energy places in our region. Your spirit will be ready and strengthened to experience new things soon.