Winter hiking - mystic and romantic
Feel the strength of nature and fill up your energy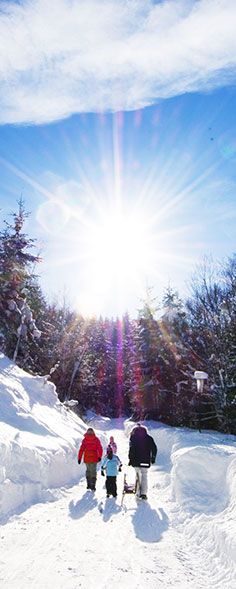 You love winter and snow but aren't great on skis? Well, why not try winter hiking? You will surely be delighted by the wonderful and perfectly prepared winter hiking paths in the holiday region Saalfelden Leogang. Experience the charm of our overwhelming landscape off-piste, unwind yourself and enjoy the fresh and clean wintery air. Make your winter holiday a great one!

Special guided tours to secret places are being offered by the local tourist office, such as the "Light wood winter hike". Light wood can be found in ancient forests, where the wood captured the light of the sun over the years. These are the moments that make you feel the power of nature and fill up on energy.
Winter hiking in Saalfelden Leogang with hiking guides. They show you both towns at their prettiest. The glittering snow, the calmness of the wood and the warming sun on your back - this is how you experience an unhurried winter hike with interesting and funny stories.
Mystic torch hike with a guide along the wild romantic Ullachtal. You can hear the snow scrunching beneath your feet and the spitting of the burning fire held in hand. Being surrounded by the mystic shadows created by the fire of your torch, you will immerse into the world of local legends. The overwhelming evening ends with a great fire at a fireplace where mulled wine and hot punch are served.